The strongest warning of the economic winter: the cargo volume of the largest container port in the United States has plummeted for 2 consecutive months
Polly Shipping Online 2022-10-25 17:25:31
The Port of Los Angeles, the largest container port in the U.S., is facing excess inventory and saw a drop in cargo during what should have been its busiest shipping period.
Freight data is often seen as a barometer of economic conditions. Generally, freight data precedes the economy, and freight recessions tend to come earlier than economic downturns.
Consumer demand is slipping as inflation continues to push up retail prices. Shipping costs have also worsened, with carriers scaling back capacity fearing a recession is coming. Growth in U.S. imports has lost steam.
Due to lack of capacity, retailers with excess inventory have canceled overseas orders, and freight volumes have fallen in a month that should be in the peak shipping season.
Weak industry outlook
Port of Los Angeles executive director Gene Seroka said the industry outlook for the rest of the year will be "soft." Its cargo volumes plummeted in September, falling for the second straight month.
Seroka said the port shipped 709,873 20-foot equivalent containers in September, down 22 percent from a year earlier and the month's lowest volume in seven years. He also noted that so far, volumes are down 4% from last year's record levels.
Inbound containers at the ports of Los Angeles and neighboring Long Beach fell 26.6% from a year earlier to 343,462 containers last month, the lowest level for the month since 2009.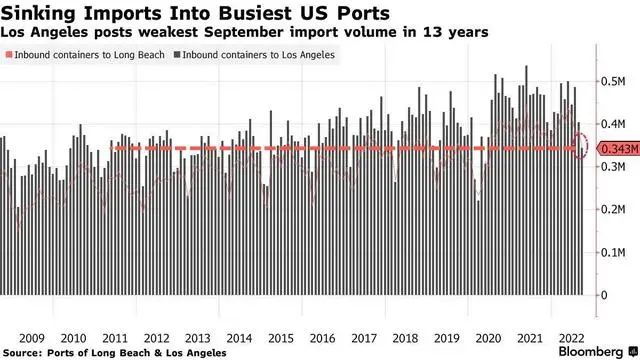 Seroka blamed record-high inflation, high fuel costs, high interest rates, and a number of other uncertainties for the slowdown in shipments that have kept Americans cautious about discretionary spending.
Retail sales underperformed in September
U.S. retail sales rose to zero in September, compared with expectations for a 0.2% month-on-month rise due to rising inflation. On a year-on-year basis, retail sales in September rose 8.2% from a year earlier.
The flat month-over-month retail sales implied a pullback in real consumer spending across industries.
The trucking industry, which is related to port freight, has also been affected by the economic slowdown and could experience a severe decline in the first quarter of next year.
Craig Fuller, CEO of FreightWaves, a provider of data and analytics for the North American freight market, has warned that the economic slowdown is spreading to the trucking industry, the worst downturn since the 2008 global financial crisis. 
"The first quarter of 2023 could be the worst quarter for the trucking industry since 2008.