Freight forwarders "Suffering Documentary"
Polly Sunny Worldwide Logistics 2022-09-09 17:18:06
Last week, Samira, sales of Sunny Worldwide Logistics, followed Alex, the head of the sales department, and Mikey, the head of the customer service department, to visit the customers who we had served before.
This September, someone goes to university for the first time; someone visited customers for the first time. How did she feel and gain? The Q&A of a new freight forwarder is here!
#1
Q: What was it like to visit customers for the first time?
A: It is the first time to visit customers. Since there is no offline communication experience and not enough professional expertise like our company's old sales, I was very cautious when communicating, my head is blank, and I don't know what to talk to the customers.
#2
Q: Then how did you keep talking?
A: Fortunately, Alex and Mikey assisted me, opened up the conversation, and helped me out when I encountered difficulties.
#3
Q: Is this the company that you arranged to transport the showcase from Shenzhen to Felixstowe last time?
A: Yes. In the communication, I learned that the main business of the customers is the exhibition. They have little export experience and are unfamiliar with shipping terms and need to explain in detail, so they pursue quality and convenience in service.
#4
Q: Did you learn anything during this entire communication process?
A: Face-to-face communication made me understand the real needs of customers. With the help of Alex and Mikey, I also learned a lot of communication skills and solidified some of the key points mentioned in the business training.
#5
Q: What questions did customers ask? How did you answer?
A: The customers asked about the year the company was established and our main business and market.
Our company was established in 1998, the main business includes sea transportation, air transportation, railway, door-to-port and door-to-door services, etc. Our market focuses on the United States and Canada, Europe, Australia, Southeast Asia and other places. After listening, they feel that Sunny Worldwide Logistics is still a powerful company. He hoped that after this cooperation, there would be more opportunities to cooperate again!
#6
Q: What plans does the customer have in the future? How can we serve him and give him corresponding assistance?
A: Customers told us that what they need is service. As long as the service is good and the feedback is timely, the rest is not a problem. And they revealed to us that another shipment of goods needs to be transported to foreign countries to participate in the exhibition in October.
What we intend to do:
1. Due to the time limit of the exhibition, we will help guests to pay attention to and recommend routes with high timeliness;
2. Update the price to let customers know the current shipping situation;
3. Get the cargo information from the guests and make the transportation plan.
#7
Q: Talk about your future work plan?
A: The next work will be the feedback of the order that is currently being cooperated with, so as to leave a good impression on the customer and strive for more follow-up cooperation. Improve professionalism and improve service quality. If there is an opportunity in the future, I hope to visit other customers and actively expand offline channels.
#8
Q: What did you gain from this visit to the customers?
A: Some preparations need to be done in advance.
First of all, when you dress up, let customers feel that you are a very professional and capable person at first glance;
Secondly, you can collect some information related to the customer's industry as a discussion material, and extend the chat content to the depths;
Finally, learn basic business etiquette, such as gestures when meeting, talking, drinking tea, etc.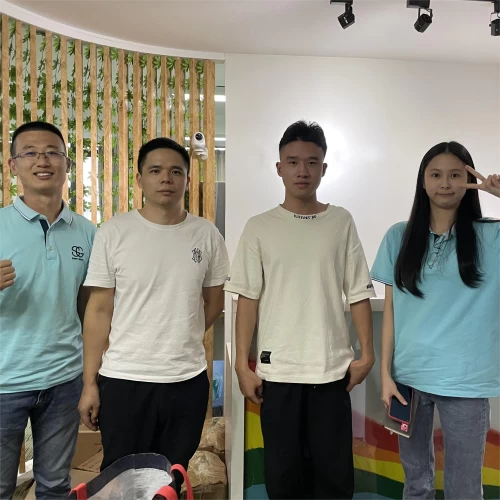 We wonder if the new people have the above-mentioned "symptoms" of social fear. In fact, as long as you have the courage to take the first step, it will lay a solid foundation for future cooperation.
Offline interaction is definitely more real than online communication. Whether it is customers or ourselves, we can directly exchange intentions and obtain more information, which is conducive to cooperation between the two parties.
This is the end of the interview. We hope Samira and Sunny Worldwide Logistics will become the first freight forwarders in the mouths of more customers, and more aspects of Sunny Worldwide Logistics are waiting for you to discover.
#More
Q: Alex, as Samira's supervisor and mentor, how would you rate Samira's performance in visiting customers this time out of 10?
A: 9 points, one more point for fear of her being proud. I hope she will be professional more in the future and serve our customers well.