Sunny Worldwide Logistics Jim\'s story of serving Filipino customers---------Served customers have a 99.9% reuse, multiple suppliers free to collect goods and free storage
Jim Sunny Worldwide Logistics 2021-07-02 11:12:36
Chino is my customer in Philippines. At first, the customer was just a general inquiry, but I did not give up. As always, I sent my business card and team photos, as well as the advantages of our company's special line in the Philippines. After the guests saw it, they just said "great to know it" at first, and then there was no reply.
After the greetings were added, the guests just didn't reply to me, but I still kept sending the customer my business card and the photo of the team again, as well as the advantage of our company's Philippine dedicated line, this time the customer did not remain silent, but sent me the data of the goods for inquiries. I was very happy because this was also an improvement.
Maybe my business card and team photos gave the customer a good impression. After I quoted, the customer reported that my price was slightly higher than other freight forwarders, but he was willing to use my service because he thought I was very professional. I also expressed my gratitude and support to the customer, and told him that I was willing to do free receiving and free storage for multiple suppliers. Customers felt great and said that more goods would be shipped by us.
Everything went smoothly, and the customer received his goods in advance, and gave me a very high evaluation on Alibaba, and introduced another very high-quality customer to me. Customers are also continuing to use our services, becoming the largest shipment among my Filipino customers.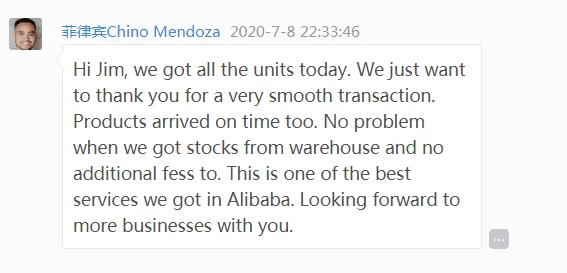 Sunny Worldwide Logistics—Served customers have a 99.9% reuse rate, multiple suppliers free to collect goods and free storage.